The site you are viewing is the initial information available. We put this site up early so that anyone interested in Flying Pen Press could find the information they needed quickly.
However, this is only the basic site. Soon, we will have a very exciting, interactive website that will perform a large number of functions for consumers, retailers, wholesalers, writers, freelancers, internal staff, and the press.
In fact, the site will be so complex that we will be unveiling an innovative design for website navigation.
The website design will resemble that of a building, the Flying Pen Press Virtual Building. Each of the different types of features found on the new website will be divided into departments. Through the use of a company directory, viewers will find it easy to navigate the Flying Pen Press Virtual Building.
Take a look below at the blueprint for the Flying Pen Press Virtual Building, and feel free to send the publisher comments at this link here.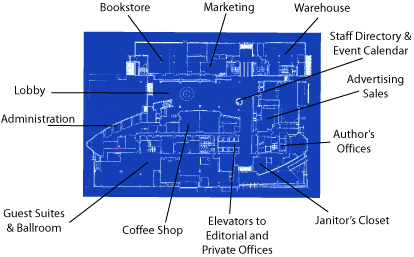 DEPARTMENTS
The Flying Pen Press Virtual Office Building will have the following departments which most viewers can visit:
The Lobby will be directly inside the Front Doors (i.e., the Home Page).
In the Lobby, visitors will be able to view the company directory (a site map of the entire virtual building).
The Receptionist's page will be located in the lobby, and through the receptionist, visitors can access the FAQ files, sign in with their account-access password, or read the Flying Pen Press brochures.
The Lobby will be an access point to all the other departments.
The Bookstore will include the various Flying Pen Press book catalogs. Information about all of Flying Pen Press's books will be available, and visitors will be able to purchase books, including e-books and podbooks, through a standard shopping-cart arrangement.
Each book will have its own set of pages. These pages will include free excerpts, downloads, author interviews, critics' reviews, library cataloging information, and readers' reviews, and anything else we think is good that goes with the book.
The Bookstore catalogs will be filtered as readers want, by imprint, title, publication date, author, or subject. "New and Feature Titles" will be one typical filter.
There will be a space to enter coupon codes, as coupons are distributed for many different specials, discounts and rebates.
The Flying Pen Press Coffee Shop is the area of the Flying Pen Press Virtual Building where readers and the public are invited to have fun and enjoy a good book. There will be a variety of pages where readers can interact with each other and discuss their favorite books, and perhaps even meet an author or two.
A Blog section of the Coffee Shop will have blogs and journals from authors, editors and even the publisher. This will be a great way to find out what is in the works at Flying Pen Press.
Book clubs will meet in the coffee shop, through forums related to different titles or topics.
Other forums will also be available, a common feature of most any interactive website these days. Any topic that relates to books, Flying Pen Press, or any of our authors will be fair game.
A Chatroom will be available, and will often be used for author appearances, writer workshops and other exciting meetings. There will be rooms for readers to discuss their favorite books, as related to the book clubs. A general discussion chatroom will also be available.
A Lectern will be set up for author appearances as well, and readers will be invited to drop in.
A Bulletin Board will allow posting of small ads, notices, messages and the like, just like any other coffee shop.
Visitors to the coffee shop can sign up for the Flying Pen Press newsletters.
A Mailing List will be available for those visitors who like to receive special offers and discount coupons from Flying Pen Press.
Visitors will be able to pull up a chair and play games and work on some puzzles, and any other pastimes we can fit on the coffee shop shelves.
A Business-Card Bulletin Board will feature links to pages we find exciting. Visitors can nominate links, and we will be featuring a cross-linking program where links will be free on this site.
What coffee shop would be complete without a Charity-Drive Fishbowl? Read about Flying Pen Press's featured charities and our author's favorite non-profit organizations. Links to these organizations will make it easy to learn more and make donations to these organziations if visitors are so moved.
This department houses the back offices of Flying Pen Press that can be visited by the public.
The Switchboard will list all of the numbers to our virtual offices.
The Mailroom will allow visitors to send email to the various virtual offices in the Flying Pen Press Virtual Building.
Customer Service is an office dedicated to handling customer comments and complaints. Our return policies will be listed here. A hotline email link will direct visitors directly to the Flying Pen Press ombudsman.
The Jobs Office will be dedicated to helping those interested in becoming a part of the flying Pen Press staff. Job openings will be posted, including employment opportunities, calls for bids, open freelance projects, and contract positions.
Resumes and applications for these open positions can be delivered here, and applicants will be able to download our application forms.
Visitors will be able to take the virtual elevator to the Editorial Offices of Flying Pen Press. Here, our editorial guidelines will be posted.
Detailed information about each of the Flying Pen Press imprints will be found here.
Each imprint will have its own submission guidelines.
A Submission Box will be available for authors to submit their manuscripts, book proposals and outlines.
The Editorial Masthead will list all of our various editors, with contact information.
At the heart of every publishing company, there is a marketing department that is bustling with energy and activity. Flying Pen Press is no exception, and our Marketing Department will span the globe. Here, Flying Pen Press speaks to the public, the press, and the industry.
A Press Room is available to the media. Some of the areas in the Press Room require prearranged passcodes, other areas are open to the public.
The Press Room will have press releases on display. Fact sheets will be readily available on all Flying Pen Press books and activities.
The Press Room is the place for reporters and journalists to make "requests for information."
The Flying Pen Press Press Secretary (say that five time fast!) will have answers ready for the media.
Clips of reviews and other articles will be available in the Press Room Library.
The Marketing Department can arrange author appearances, and author tour calendars will be prominently displayed.
The Marketing Department can even handle requests for author appearances at conventions, conferences, book clubs and classroom talks.
The Marketing Department will have a special area for critics and reviewers. Qualified reviewers will have access to free review copies, which can be ordered as downloads or as printed copies in the mail. Reviewer feedback can be recorded here on a special form that goes directly to the author and publisher.
The Marketing Department will offer special programs to our readers, including a program where readers are rewarded for posting a link on their own website that leads more potential customers to the Flying Pen Press Virtual Building.
Of course, the Marketing Department will also be the keeper of the Flying Pen Press privacy policy. This is a very important duty.
A number of our books will have space available for advertising, especially our reference books and directories. This includes The Game Day Poker Almanac. This department handles advertising sales.
Rate cards will be available for download or viewing.
Advertising contracts can be completed here, and advertisers will be able to contact the Flying Pen Press sales staff.
Advertisements can be submitted here to the Advertising Editor.
Lists of sponsorship and advertising opportunities are listed in this department.
The Flying Pen Press Virtual Building Warehouse handles all sales to retailers, wholesalers, distributors, and special large orders for libraries, schools and other qualifying volume buyers.
Volume buyers must sign in at the Warehouse entrance (this could be done at the Receptionist's Page, as well).
Volume buyers will receive a special coupon code that they can use in the Bookstore to receive wholesale discounts.
The Flying Pen Press Credit Manager pages will handle credit accounts.
The Returns Manager will be able to answer questions relating to retailer and distributor returns. Returns can be scheduled here, if desired.
The Warehouse Cashier can also accept payments towards credit accounts at the Warehouse.
Our shipping policies and package tracking will be found on the Warehouse pages.
Certain special offers, such as professional specials and charity sales, are handled through the Warehouse, as well.
Those with volume-buyer accounts and retailer accounts can manage their accounts on the Warehouse pages.
Flying Pen Press will offer its authors website space in the Flying Pen Press Virtual Building, to help them stay in contact with their readers.
Authors can have their own blog pages, chatrooms, calendar of events and releases, podcast downloading page, FAQ page for their books and themselves, recorded and published interviews, special reader offers, book reviews, excerpts for viewing or downloading, contact pages, and mailing lists.
The Author Offices will have a list of all authors published through Flying Pen Press, including contact information.
This small department provides a directory, biographical notes and email links to the staff of Flying Pen Press.
The Guest Suites in the Flying Pen Press Virtual Office will house special conference areas and will be accessible by invitation only.
The Guest Suites will be used for surveys we take for the creation of industry directories, including the list of poker venues that we will publish in future editions of The Game Day Poker Almanac.
A special Guest Suite will be prepared for customer surveys and another for reader surveys.
Book reviewers will have their own Guest Suite, where media packets, downloads, review copies and interview material will be available. Reviewers will be able to arrange author interviews.
Authors can arrange to have Guest Suites for their own purposes, where special friends, family members, fans, industry shakers and movers, and celebrities can be invited. These Author Guest Suites can be stocked with special gifts, book offers, and any letters or information the Author wishes to post. Guests can request special inscriptions in a signed book.
The best Guest Suite is the Ballroom. The Virtual Ballroom at the Flying Pen Press Virtual Building can host a variety of special parties, conventions, conferences, or other events. Gift bags could be provided to guests. Guests will be able to mingle in a large, well-designed chatroom, and live webcast appearances of authors and other guests of honor can be viewed.
Conference Rooms will also be available, for live, interactive webcast conferencing. These will be perfect for writer's critique groups, brainstorming sessions, and in-house planning with authors and retailers.
In this department, visitors can view the Flying Pen Press Calendar of Events. This includes publicity events, book signings by any of the Flying Pen Press authors, and conferences that Flying Pen Press editors will attend.
Visitors can sign up to receive calendar notices by email or postal mail.
Anyone wishing to request an event, such as an author appearance, or wanting to invite Flying Pen Press staff or authors to a conference or other event, could send their request from this department.
This department is for staff only, and requires a passcode. However, as we plan the Flying Pen Press Virtual Building, you can take a sneak peek at the floorplan.
The Security Office will house personnel records behind special firewalls (with all sensitive information kept off line, of course).
Conference Rooms, Chatrooms and Forums used for project management and staff purposes.
Project Manager Offices where project management pages keep track of the many different tasks that go into book production.
List servers to keep all staff informed of their project progress and of company news.
A Manuscript Vault to hold the different drafts and proofs for editors and typesetters on a given book project to consult.
Human Resources offices to track and access staff members efficiently.
Operating Procedure Manuals will be posted for all staff members. This will include the Flying Pen Press Editor Handbook.
Company policies for employees, freelancers, authors and editors will be posted.
Human Resources office will handle benefits claims and expense reports from the staff.
A Watercooler area will be provided so that the staff members in all their virtual offices can discuss whatever they want to.
Internal-use event calendars, to coordinate the travel, appearance and work of all staff, editors and authors.
The Webmaster's pages, for all the files it takes to keep the Flying Pen Press Virtual Building open.
A silly name for all the error messages, such as "Under Construction," "Opening Soon," and "Error Code 404, site unavailable."